We're delighted that Mussila won the Bett Awards 2022, as the Best International Digital Educational Resource.
The judges were very impressed with Mussila's wide, flexible deployment which helps to encourage a lifelong engagement in music and creativity for students. The app offers gamified courses of tested academic value where children move freely through different and fun challenges, acquiring music skills along the way. The learning progress ensures individualised follow-up and personalised content.
Chief Executive Officer, Jón Gunnar Þordarson was in London to receive the award on behalf of the full Mussila team based in Reykjavík, Iceland.
Jón mentioned, "This recognition for our efforts to support children's natural development through market-leading edtech solutions comes at a point where the company has continued to widen its ambitions with the introduction of our new reading and comprehension app, WordPlay, and further solidifies the drive, passion, and direction of the whole Mussila team at a very exciting time for the business."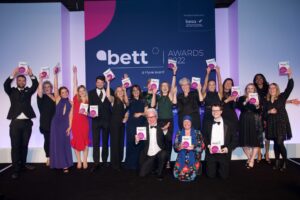 As an internationally recognised leader in enhancing Children's development across music, as well as reading and comprehension, this award further supports our aim of driving the children's edtech market into new and exciting territories in the future.
What Are the Bett Awards?
The Bett Awards are a recognition and celebration of the inspiring creativity and innovation that can be found throughout technology for education.
The awards aim to showcase the leading educational technology solutions across the world, and form an integral part of Bett each year.
The Bett awards are produced in association with Besa, and are widely recognised as the best way to highlight your organisation's impact on global educational technology (EdTech).
About Mussila Music School
Mussila Music School is an award-winning app with hours of musical lessons, challenges and games. Carefully crafted by musical experts and educators, designed to provide a playful experience.
Mussila is accessible across devices and is available in 32 languages to date.
The Mussila Music School is primarily targeted at children aged between 6 to 11 and is perfect for beginners starting off their first musical adventure.
What to expect from Mussila:
Learning music will be fun – your child will learn the basics of music and music theory.
Learn and play the piano – With an easy step by step tutorial your child will learn to play world-famous songs on the keyboard.
We will keep you in the loop – parent support is essential, and our reports will help you to stay on track with your child's musical progress.
With the Mussila subscription, your child will gain a solid musical foundation that lasts a lifetime.