There is no bigger stage than the biggest song competition in the world, Eurovision. Daði and Gagnamagnið were among the favorites to win in 2020; their song Think About Things had gone viral before being selected by Iceland. This year, you can finally be part of the show. Instead of sitting on the couch, Play and Sing along with Daði and Gagnamagnið in Mussila's new app!
Daði's hit song: Think About Things
Although Eurovision was canceled last year due to the pandemic, the song Think about Things is a huge
hit, with over seventy million plays on Spotify. In addition, the official music video has over twenty-five million views on Youtube. Chart-wise, it reached Top 40 in the UK and Sweden, and Top 3 in Iceland and Ireland.
Icelanders love Eurovision
Eurovision is enormous in Iceland, as Hollywood actor Will Ferrell discovered when filming Eurovision Song Contest: The Story of Fire Saga in 2020. The popular song Husavík was nominated for an Oscar in the category Best Original Song. Even though Husavík did not win, Icelanders are excited and positive about the success of Daði and Gagnamagnið and their song 10 Years.
While Daði and Gagnamagnið get a second chance representing Iceland, we couldn't just sit and watch. We want to Sing and Play Along! 
Sing and Play Along with Daði and Gagnamagnið
Download the app for free and play an arcade game with each song + sing it in a karaoke version. Mussila uses voice recognition to let you know if you hit the right tone. Then tell your friends about the app and enjoy some healthy competition.
The app is made for every Music or Eurovision fan and available on App Store and Google Play. Check the leaderboards to see how many points you got and compare yourself to the rest of the singers in the world.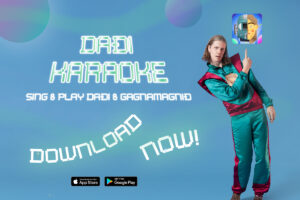 Unleash your creativity in the sound lab. Create your own songs and share them with your friends.
Songs from Dadi and Gagnamagnid in the app:
– 10 Years: arcade game, karaoke, and video
– Think about things: arcade game, karaoke, and video
– Is this love: arcade game, karaoke, and video
We are excited to see you Play and Sing Along! Share your results on Social Media: Tag @mussila_apps when you share a screenshot on Instagram Stories.