Summer vacation is here. Well, for lots of families and their children, it's been here since spring. In a "normal" year, parents and educators accept as a given that their children and students won't retain the entirety of their previous 9-10 months' worth of education. How could kids, after all, retain a year's worth of schooling when summer holds so many tantalizing diversions? But the question parents and educators really want to know is: exactly how much? A 2018 study conducted by NWEA, learned that,
"…summer learning loss was observed in math and reading across third to eighth grade, with students losing a greater proportion of their school year gains each year as they grow older – anywhere from 20 to 50 percent."
Due to COVID-19 dominating and affecting educational plans for children worldwide — not to mention plans for everyone — these numbers stand to increase considerably. Though some school systems are prolonging the year in a digital capacity, online learning isn't a one-size-fits-all solution for everyone. Dedicated online learning tools and apps can help offset the "Summer Slide," especially a best-in-class, award-winning children's app like Mussila.
Here's How To Beat Brain Drain With Mussila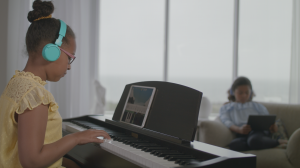 Before we get to the good stuff, rest assured that one of the most magical aspects of playing and learning music is that practice and repetition develop healthy muscle memory characteristics both mentally and physically. So while this isn't the case for all academic endeavors, children who study and practice music have a little "easier" time staying on top of the proverbial slide. Learning through play is an indispensable methodology for knowledge retention.
Tip #1: Play music for your child. Lots of music.
While practicing during hard-to-beat summer weather can seem like a stretch for parents and children, it doesn't have to be. We highly recommend expanding your child's musical sensitivities by playing as broad a selection of music as possible. Your child won't like everything you play, trust us. This is your chance to invite conversation about what they do or don't like about a particular song. Which leads to…
Tip #2: Establish reasonable practice times
…you know that song that your kid really likes? Encourage them to listen and pick out a melody from it to play along to. You see, at this point, it's not really practiced. It's fun, and it's important to keep it that way. Help by suggesting songs they already know like Happy Birthday, Twinkle Twinkle Little Star, and Mary Had a Little Lamb. Learning to play by ear helps immeasurably with musical development. Your child can also play along to these songs and more with Mussila.
Tip #3: Start a band. Unplugged.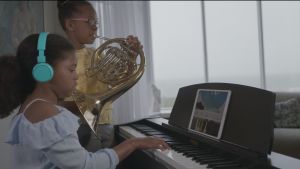 With safe social distancing measures paramount, encourage your child to play along with others if it's safe and an option. If it's not, why not play along with them? You don't need to be musical at all. Handclaps, banging, ahem, gently tapping pots and pans, or even tapping your foot and becoming involved in your child's musical experience will make for a memorable session and help with their retention. In the Mussila app, your child can enter the Jam session or become a conductor if you develop a case of stage fright.  
Tip #4: Well-earned rewards.
While seemingly over-simple, a well-earned reward can do wonders to motivate your child to practice and retain the material. Whether it's an extra scoop of ice cream or more screentime with Mussila, don't underestimate a well-deserved treat.
Tip #5: Have a concert on the weekend.
We recommend weekly or bi-weekly concerts. Concerts allow your child to showcase all of the hard work and play they put into their music education. If your child isn't ready for kind of endeavor, we recommend letting them come to speed at their own pace.
A little planning can go a long way for your child's music education.
Nothing is as normal as any parent would like. Though, with a few simple steps, you can help your child stay on top of the "summer slide." This way, families will be ready when their children head back to the music room or classroom. Here's one last pro tip: Mussila works offline too. So no matter where you and your family are this summer, you can help your child learn wherever, whenever.